Community Affairs
Community Affairs supports the OCC's mission to ensure a vibrant banking system by helping national banks and federal savings associations to be leaders in providing safe and sound community development financing and making financial services accessible to underserved communities and consumers, while treating their customers fairly.
Community Affairs conducts outreach and develops publications to support this goal, in addition to
Learn how to contact a District Community Affairs Officer.
Featured Publications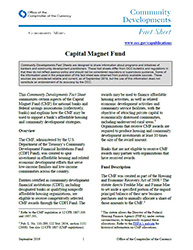 Summarizes certain aspects of the Capital Magnet Fund (CMF) for national banks and federal savings associations (collectively, banks) and explains how the CMF may be used to support a bank's affordable housing and community development strategies.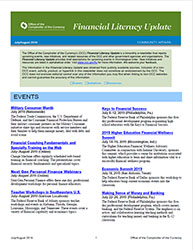 This bimonthly e-newsletter reports upcoming financial literacy events, initiatives, and related resources of the OCC and other government agencies and organizations.
Describes the processes that national banks should follow when submitting public welfare investment applications and notices to the OCC through the Central Application Tracking System.
Related Links
---
Related News and Issuances