Project REACh
Removing barriers to financial inclusion

Popular Links
Top Tasks
Project REACh promotes financial inclusion through greater access to credit and capital.
REACh stands for Roundtable for Economic Access and Change, and the project brings together leaders from the banking industry, national civil rights organizations, business, and technology to reduce specific barriers that prevent full, equal, and fair participation in the nation's economy.
Project REACh convenes people with the ability to help solve inherent policy problems so underserved populations may have the same opportunities to succeed and benefit from the nation's financial system as others. The group identifies and works to reduce barriers to access that exist at the national or local levels to expand access to credit and capital.
"We have the ability to dramatically expand access to a financial system that provides economic opportunity to hundreds of millions of people by reducing barriers that keep many people from fully participating in our economy," said Acting Comptroller of the Currency Brian P. Brooks.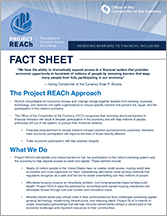 The OCC recognizes that removing structural barriers to financial inclusion will result in broader participation in the economy and will help millions of people, previously left out of the system, to pursue their American dreams.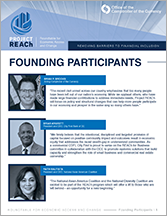 Read more about what each of the founding participants have to say about removing barriers to financial inclusion.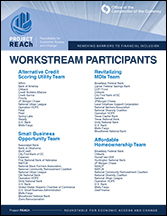 See which partners are working in each of the Project REACh workstreams: the alternative credit scoring utility team, the affordable homeownership team, the revitalizing minority deposit institutions team, and the small business opportunity team.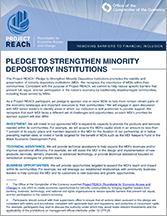 The Project REACh Pledge to Strengthen Minority Depository Institutions promotes the viability and preservation of minority depository institutions (MDI). We recognize the importance of MDIs within their communities.
Founding Participants
Founding participants include:
Brian P. Brooks, Acting Comptroller of the Currency
Brian Argrett, President and CEO, City First Bank of DC
Faith Bautista, President and CEO of National Asian American Coalition
Dr. John Boyd, President and Founder, National Black Farmers Association
Kara Brewer Boyd, President, Association of American Indian Farmers
Wayne Bradshaw, President and Chief Executive Officer (CEO) of Broadway Federal Bank
John Hope Bryant, Founder, Chairman, and CEO, Operation HOPE
Ramiro A. Cavazos, President and CEO, U.S. Hispanic Chamber of Commerce
Michael Corbat, CEO of Citigroup
Dante Desiderio, Executive Director of NAFOA
Derrick Johnson, President and CEO of the NAACP
Kenneth Lin, Founder and CEO of Credit Karma
Marc Morial, President and CEO of the National Urban League
Gordon Smith, Co-President and Chief Operating Officer of JPMorgan Chase
Steve Steinour, Chairman, President and CEO of Huntington Bank
Jin Sung, Chair of the National Diversity Coalition
John Taylor, President and Founder, National Community Reinvestment Coalition
Laurie Vignaud, President and CEO, Unity National Bank
Michael Weinbach, CEO of Consumer Lending, Wells Fargo

Popular Links
Top Tasks
---
Related News and Issuances